Dear friends!
Welcome on the website of Faculty of Informatics and Information Technologies
Slovak University of Technology in Bratislava
The Faculty of Informatics and Information Technologies (FIIT) is one of the seven faculties of the Slovak Technical University in Bratislava (STU). FIIT STU comprehensively covers the field of informatics and information technologies in education and research. It is also the only faculty in Slovakia and the Czech Republic that has accredited study programs by the Institution of Engineering and Technology (IET).
It was established in 2003 on the basis of market requirements and with a vision of innovation of the usual processes in the company. The basis for the establishment of FIIT was the Department of Informatics and Computing within FEI STU, which provided IT education at STU. Since 2013, FIIT STU has been housed in a separate, newly built building in Mlynská dolina.
Currently, it educates more than a thousand students in three degrees of study (bachelor's, engineering, doctoral). Part of the study programs is created directly with partner organizations and companies, with which cooperation is established for expanding practical knowledge and updating study plans according to the developing market environment. An essential part of the study is also research activity, in which students are actively involved in 6 narrowly specified research groups.
Surveys regularly show that FIIT STU is among the best faculties in Central Europe. Among all graduates of Slovak universities, the largest number of FIIT STU graduates work in their field (up to 94%). The demand for graduates is also confirmed by the high starting salary of graduates, which is still increasing (in 2019, the starting salary of a FIIT graduate was up to €2,200).
---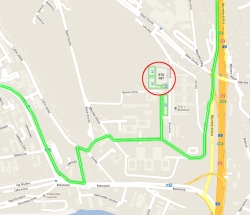 Address:
Slovak University of Technology in Bratislava
Faculty of Informatics and Information Technologies
Ilkovičova 2
SK-84216 Bratislava 4
E-mail: info[at]fiit.stuba.sk
Web: www.fiit.stuba.sk
GPS: 48.153429, 17.071716
Dean's Office (in Slovak language)
Academic Department: (in Slovak language)
Admission procedure to doctoral degree study:

e-mail: katarina.herzogova[at]stuba.sk / tel.: +421 2 210 22 141

Admission procedure to bachelor and master degree study:

e-mail: zuzana_tekulova[at]stuba.sk / tel.: +421 2 210 22 143

Erasmus faculty coordinator:

e-mail: barbara.drnajova[at]stuba.sk / tel.: +421 2 210 22 503