utorok, 30. september 2014
The Fall of the Stupid Network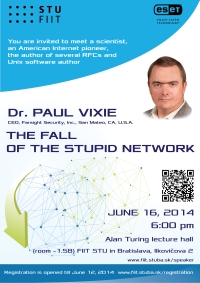 Dr. Paul Vixie
(CEO, Farsight Security, Inc., San Mateo, CA, U.S.A.)
You are invited, to meet a scientist,
an American Internet pioneer,
the author of several RFCs and Unix software author
June 16, 2014 at 6:00 pm
in Alan Turing lecture hall
(room -1.58) FIIT STU in Bratislava, Ilkovičova 2
Registration is closed.
Tlačová správa

Na Slovensko príde internetová superhviezda Paul Vixie,
ktorý navrhol súbor rozšírení protokolu DNS

(IT News / správy / biznis, 3. 6. 2014)
Abstract
By design, the Internet core is stupid, and the edge is smart. This design decision has enabled the Internet's wildcat growth, since without complexity the core can grow at the speed of demand. On the downside, the decision to put all smartness at the edge means we're at the mercy of scale when it comes to the quality of the Internet's aggregate traffic load. Witness the endless stream of patches and vulnerability announcements from the vendors of literally every smartphone, laptop, or desktop operating system and application. Bad guys have the time, skills, and motivation to study edge devices for weaknesses, and they are finding as many weaknesses as they need to inject malicious code into our precious devices where they can then copy our data, modify our installed software, spy on us, and steal our identities. Since the adversaries of freedom and privacy now include nation-states, the extreme vulnerability of edge devices and their software is a fresh new universal human-rights problem for the whole world. Dr. Paul Vixie, CEO of Farsight Security, will offer some suggestions as to how we reshape the Internet while at the same time the Internet continues to reshape human society.
---
Dr. Paul Vixie is the CEO of Farsight Security. He previously served as President, Chairman and Founder of Internet Systems Consortium (ISC), as President of MAPS, PAIX and MIBH, as CTO of Abovenet/MFN, and on the board of several for-profit and non-profit companies. He served on the ARIN Board of Trustees from 2005 to 2013, and as Chairman in 2008 and 2009. Vixie is a founding member of ICANN Root Server System Advisory Committee (RSSAC) and ICANN Security and Stability Advisory Committee (SSAC).
Vixie has been contributing to Internet protocols and UNIX systems as a protocol designer and software architect since 1980. He is considered the primary author and technical architect of BIND 8, and he hired many of the people who wrote BIND 9 and the people now working on BIND 10. He has authored or co-authored a dozen or so RFCs, mostly on DNS and related topics, and of Sendmail: Theory and Practice (Digital Press, 1994). He earned his Ph.D. from Keio University for work related to the Internet Domain Name System (DNS and DNSSEC).